Coinbase - A great place to start
Coinbase is a crypto platform known for its security and practicality, which makes it one of the best platforms to start on for beginners. Everything is clear and simplified for you to make your first investments in cryptocurrency with ease.
This platform even offers cryptocurrencies for free !
Coinbase : Simplicity is the key to efficiency
The contents of this Coinbase review are the following:
The history of Coinbase
As one of the best platforms for beginners, Coinbase has earned their status over the years thanks to its simplicity and high security. Founded in 2012 by Fred Ehrsam and Brian Armstrong in California (USA), the platform quickly became very successful. In March 2016, the company was even ranked as the second most influential organization in the field (Richtopia ranking).
As it became a real ecosystem, Coinbase started to offer, in addition to its cryptocurrency exchange platform, a mobile application acting as a Wallet and a Visa card to pay with the funds of the platform as well as a space for discovering crypto projects!
To complete the list, Coinbase proposes a platform for advanced traders called Coinbase Pro. And a cold wallet platform for institutions named Coinbase Custody.

Registering on Coinbase
To register, you will need to complete the usual identity checking procedures (KYC). This takes only a couple of minutes, and you won't have any difficulties to do it.
To start your registration please click here.
You will be able to benefit from a 10$ gift if you decide to invest 100$ or more on the platform after your registration.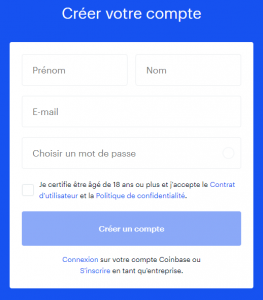 Presentation of the interfaces and services
The interface has been simplified to the strict necessary. It is clear and uncluttered, making it very effective for performing basic cryptocurrency transactions.
The home page is your Dashboard which summarizes your wallet balance and shows you the list of cryptocurrency markets you are following.
On the wallet tab, you'll have details of the crypto assets you hold. For each crypto currency you've purchased, you will be given the proportion that it represents in your portfolio.
You will automatically get interests on certain crypto currencies if you hold them in your portfolio. This currently applies to the following cryptos:
Dai (DAI): 2% annual interest.
Tezos (XTZ): 4.6% annual interest.
Cosmos (ATOM): 5% annual interest.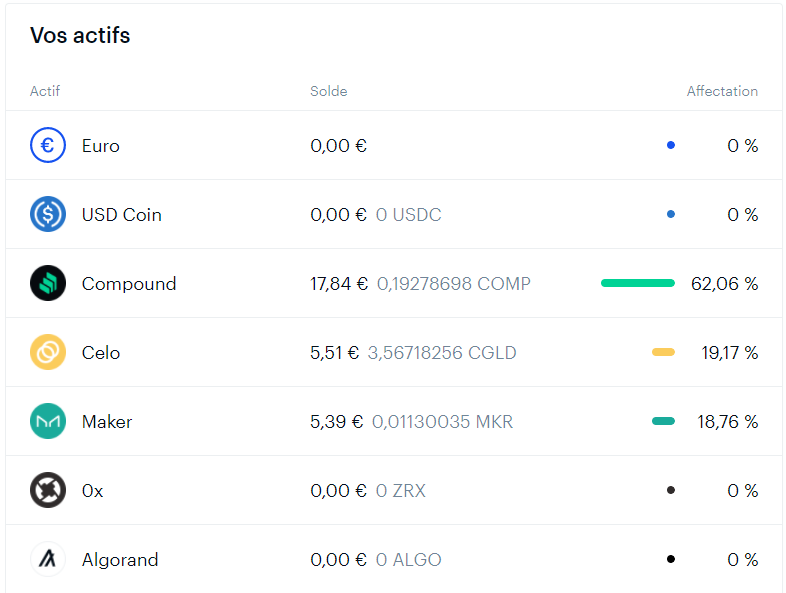 The price tab will direct you to the list of different cryptocurrency markets. Allowing you to follow the price fluctuations.
All that's left to do is explore the three buttons on the main bar:
Trade: This is where you can Buy, Sell, and Convert cryptocurrencies.
Send: Here you can transfer funds to another cryptocurrency wallet.
Receive: Conversely, here you can receive funds to your Coinbase wallet.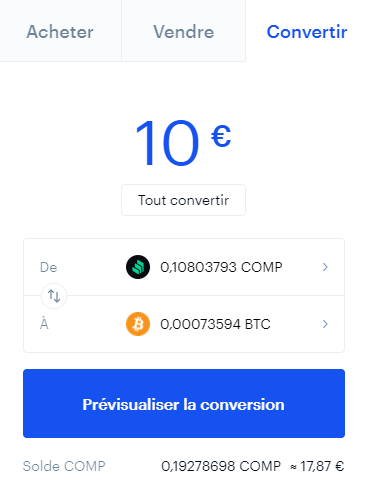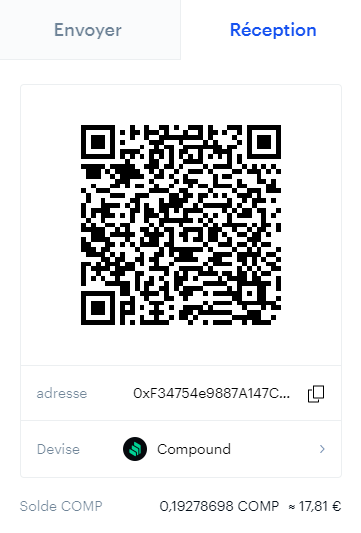 Otherwise, the decentralized Coinbase Wallet app allows you to access a more advanced wallet on mobile. You can download the app on iOS or Android.
Get cryptos for free
At the very bottom of your Dashboard (Home), you'll find a box allowing you to access Coinbase Earn.

This will allow you to earn cryptocurrency rewards for free, by answering simple and quick surveys. Currently these rewards amount to more than $100 in total !

Coinbase's ecosystem is easy to learn and utilize. With a strong focus on security and the imposed regulations, this platform is guaranteeing safety for your funds. We highly recommend it for beginners, especially since you can take advantage of free cryptocurrencies!