Feel Mining - European Leader for your interests!
Staking: making your cryptos grow
Staking: Reminder on the top of passive income in crypto
Stacking is a great way to invest in cryptocurrencies. Here we can benefit from the potential surge in price of a crypto asset, and additionally  generating passive income, regardless of the state of its price.
Be careful though, the interest rate is defined by the protocol, but the price of the crypto remains subject to market laws. As you can see, this can be a good opportunity to increase your profits. But the value of crypto can also go down dramatically, as always. However, the interest generated can be used to compensate for this possible decrease!
Yes, staking is very interesting, you are right to think that!
In theory, anyone with a certain amount of funds required by the target cryptocurrency's protocol can configure a node and thus participate in the consensus.
However, it is not so easy on the technical side. If you want to embark on this kind of adventure on your own, you will need good computer skills, and read the project documents.
It is therefore much simpler, and advisable, to leave this in the hands of professionals.
Thanks to these  service providers, no technical knowledge is required. No server to manage. No node to synchronize. In short, just cashing in!
Best of all, there is no financial minimum when going through a staking service provider. Because the funds of the users are gathered in liquidity pools, directly managed by the company in question.
Feel Mining: The new crypto service provider
And here is a second French company which enters the dance. Feel Mining is rapidly rising among the top European cryptocurrency service providers.
Since 2019, Feel Mining has been offering these staking offers. The company has nevertheless been present since 2017, having started with cryptocurrency mining service offers.
The company has a serious and passionate team, as well as several Advisors.
Feel Mining therefore made its debut in cryptocurrency mining. It then opened up to Masternodes hosting services, then to staking offers.
To date, we can find 7 cryptocurrencies in Staking and 14 projects in Masternodes!
How to register on Feel Mining
Simply open an account by clicking here.
Fill out the form with your personal information. And be sure to use a strong password!
To finalize your registration, click on the link that has just been sent to you by email. Once back, you can follow the quick tutorial offered by Feel Mining, then start doing business!
Cryptocurrencies offered by Feel Mining in Staking
There are several very interesting projects on Just Mining. With interest rates ranging from 5% to 22%! The cryptocurrencies available for staking are as follows:
Tezos (XTZ)
Loom Network (LOOM)
Algorand (ALGO)
Cosmos (ATOM)
Wanchain (WAN)
And the two popular projects of the moment:
Avalanche (AVAX)
Loki Network (LOKI)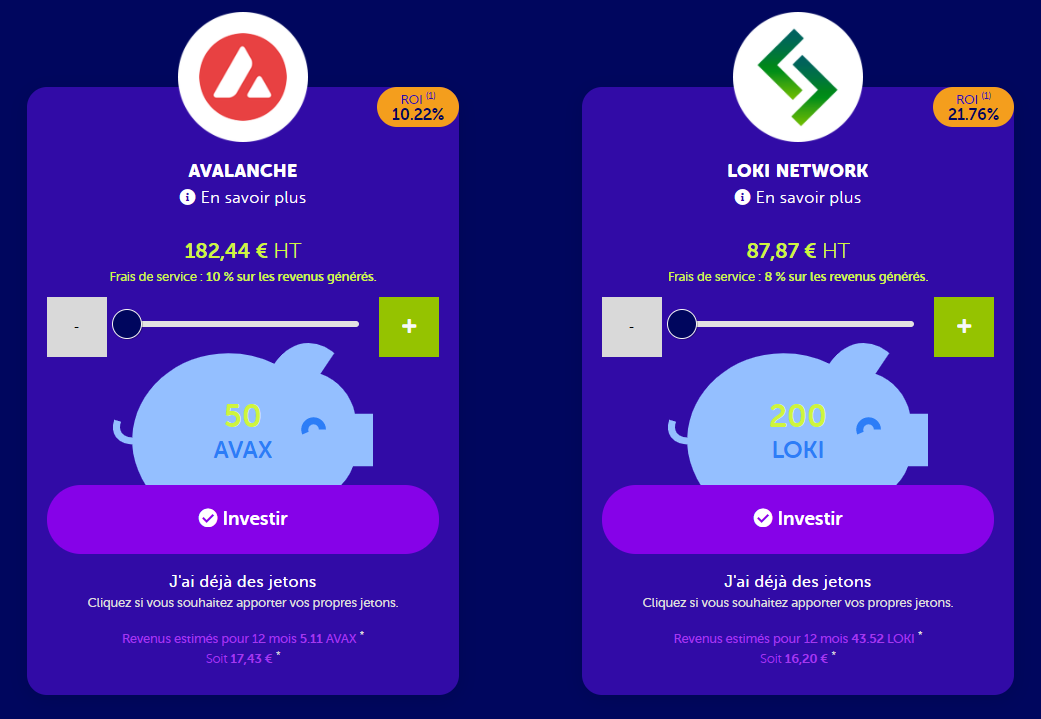 There are only two choices when you want to subscribe to a staking offer:
Buy and put your tokens in staking at Feel Mining.
Provide yourself with tokens you already own and benefit from Feel Mining's infrastructure and rates.
The service charge for staking is taken directly from your profits. They vary from 8 to 10% depending on the cryptocurrency. These fees are relatively low compared to the overall market.
The acquisition of Masternodes on Feel Mining
There are 14 projects available in Masternodes with Feel Mining! Ranging from 6 to 40% interest, the list is as follows:
Stakenet (XSN)
Syscoin (SYS)
Divi (DIVI)
Energi (NRG)
Dash (DASH)
Polished (POLIS)
Bitgreen (BITG)
PIVX (PIVX)
Horizen (ZEN)
Zcoin (XZC)
Phore (PHR)
Zelcash (ZEL)
E-sport Betting (ESBC)
Sinovate (SIN)
The "Find out more" button  on the sidebar of each Masternode allows you to find out more about the project concerned.
Everything is done as easily as possible with Feel Mining. They will take care of buying the token necessary for the operation of the Masternode and they will take care of the configuration, hosting, maintenance, etc. from the server. Note that the fees for these services are included in the total price of the Masternodes.
If a Masternode is too big for your budget, you can opt for a shared Masternode instead!
Masternodes in Expert mode
If you already have a compatible cryptocurrency, and you want to turn it into a Masternode, at Feel Mining, it's possible!
You will then have to switch the interface to Expert mode.
It is therefore you who will provide the required tokens, and Feel Mining who will take care of all the services.
What can be all the more interesting with the expert mode is that Feel Mining will leave you all the profits generated for 1 year! Otherwise, when buying a Masternode, Feel Mining keeps 5% of the profits generated (not of the total, only of the profits).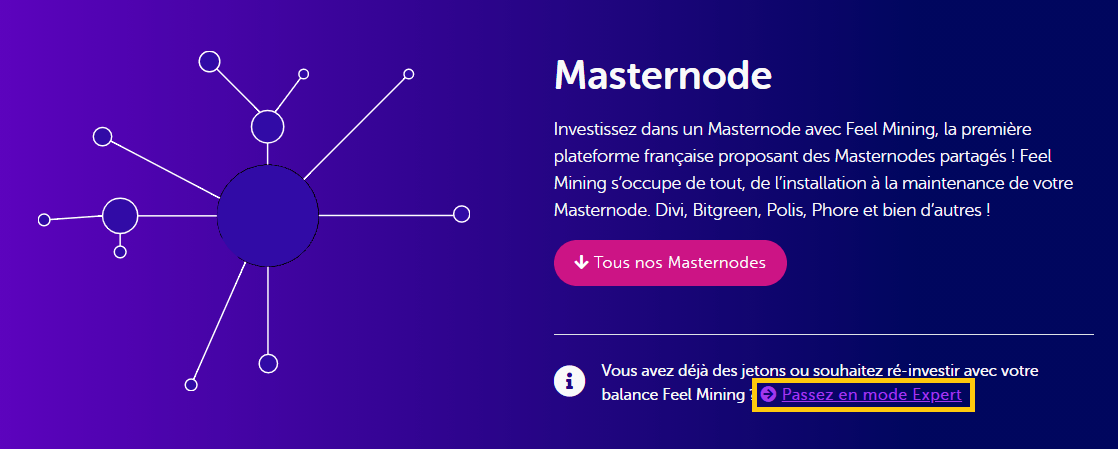 Invest in a mining machine
If you are more of a miner, get a new ASIC!
Feel Mining offers 5 Antminers Hardware from the manufacturer Bitmain.
If you decide to make such a purchase, be aware that you can have it delivered to a Feel Mining partner mining farm of your choice. You will then be fully guided to activate your hosting contract.
Hosting your mining
Thanks to this service, you can host your mining equipment to a distant destination, much more profitable. This also makes it possible to get rid of the constraints of such equipment (size, maintenance, noise, heat, etc.). The price per kWh is obviously advantageous in the target countries. In addition, the energy used to power your equipment is 100% green.
The cost of this service is 10% of the net profits.
Cloud Mining
If you want to introduce yourself to the world of mining, without the material constraints, this offer is for you! With Cloud Mining, you can rent the computing power of different algorithms for the Bitcoin or ZCash. You will thus be able to benefit from mining income, as if you were the owner of the machine.
The power (hashrate) that can be rented for Bitcoin ranges from 5 to 500 TH/s.
Two packages are offered, annual or monthly, each with their advantage:
Annual: Subscription cost reduced by 10%.
Monthly: The packages are non-binding, which makes it possible to quickly stop the subscription if there is a slack period or if the profitability of mining decreases.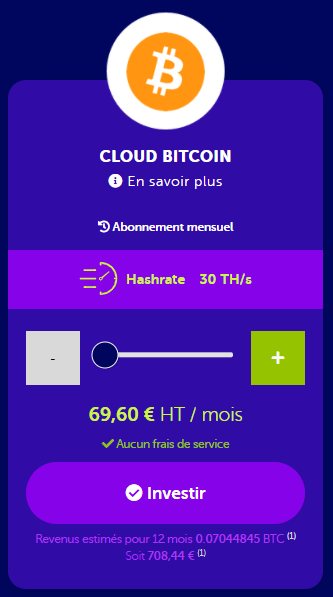 Get a Cold Wallet
Last point, the essential purchase of a Cold Wallet.
The Ledger Nano X and the Safepal S1 are available for sale at Feel Mining.
These physical wallets allow you to rest your cryptocurrencies safely.
The bonus: Cashback!
You even have the right to a good bonus plan! To reward the loyalty of its customers, Feel Mining has set up a cashback system.
This cashback is in partnership with the company VeraOne, a French startup that issues a Stablecoin (VRO) focused on the price of physical gold!
If you order with an available balance directly in your Feel Mining account (done via a bank transfer), you can benefit from up to 1.5% cashback in VRO.
The percentage depends on your order history:
0.5% for a total of orders of less than € 3,000.
1% for a total of orders of € 3,000 to € 12,000.
1.5% for a total of orders over € 12,000.
Make sure that your account is in Gold or Platinum status in order to benefit from the cashback system.
Feel Mining is a serious and accessible French platform for all. Whether you have a beginner or confirmed cryptocurrency profile, you will find something to satisfy you!
Their diverse offers are clear and transparent. This is the kind of platform where it is pleasant to invest!