YouHodler - Boost your crypto savings!
Investing in cryptocurrencies is good, with interest is even better, especially with those offered by YouHodler. With the constant innovation present in cryptocurrencies, the investments that follow become strong and serious opportunities to grow your savings.
YouHodler: Top rates in crypto
A trusted, highly secure company
European company based in Switzerland and Cyprus, YouHodler is one of the pillars of the Crypto Valley association, bringing together many blockchain projects. This assures that the company is serious and worthy of trust.
Having started out in lending and borrowing solutions, YouHodler has now diversified well. Now, the main objective of this platform is to allow you to simply grow your capital in cryptocurrencies, by offering you passive income.
The platform is intended to be flexible. The minimum deposit of $ 100 is affordable, and short, 30-day contracts are offered. In addition, withdrawing your money is free of charge and without hidden conditions.
And all this without risks because YouHodler has a $150 million crime insurance fund pooled by Ledger Vault.
Registration on YouHodler
To register on YouHodler, start by clicking here.
Then click on Start, then enter an email address and a strong password.
Then, from the Profile tab, perform the various checks requested.
The savings offered by YouHodler
Do you have cryptocurrencies in a corner waiting to go to the moon? Why not instead benefit from very good interest rates while waiting for boarding? YouHodler offers you this service, turning your fixed assets into profit to earn up to 12% annual interest. Your interest is paid into your portfolio every week.
12% on the main Stablecoins, almost 5% on Bitcoin and Ethereum, even more than that on DASH or LTC: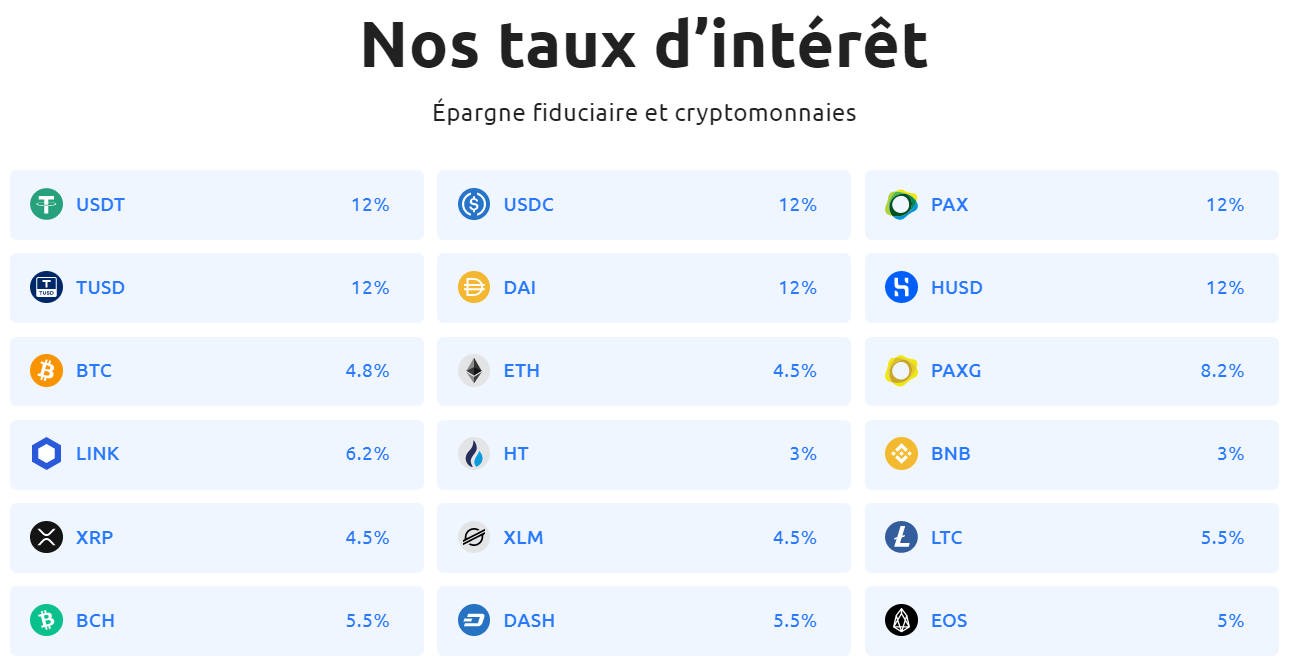 Boost your interests
Obviously YouHodler will offer you an innovative tool to go even further. Named Multi HODL, this tool powered by crypto loans, will help you exploit market volatility.
You can therefore boost your savings, while keeping your daily interest.
You will be able to find the right balance between limited risk, and high potential profit, but uneven.
Cryptocurrency loans
You are an undeniable investor in cryptocurrencies, but you still need euros to pay your taxes because they do not accept Bitcoin? How annoying, we know.
So either you have a Payment Card offered for example by Crypto.com or Binance. Either you can make a loan with YouHodler, and thus continue to quietly Hodl your dear cryptocurrencies.
You can thus use your crypto as collateral to obtain instant loans in cash and in EUR, USD, GBP, CHF, Tether (USDT), or Bitcoin (BTC). YouHodler has the highest loan-to-value ratio (90%) with minimum loan amounts starting at just $100.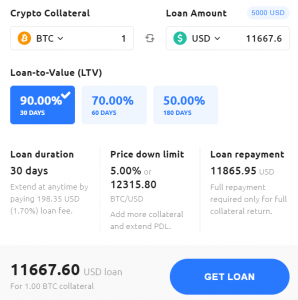 YouHodler has positioned itself as a leader in the very specific sector of cryptocurrency savings. If you want to grow your dormant funds in the medium to short term, without risk, then YouHodler will meet your expectations.