Sorare - The blockchain soccer game
Sorare has become the benchmark for NFT football cards after only 3 years of existence. The game now has more than 90,000 active players and more and more new managers are embarking on the adventure!
Sorare recently announced a fundraising of 500 million euros, which would make it the biggest fundraiser in the history of French Tech. The money will be used to increase the number of partnerships (currently 142 licensed clubs), to continue the development of the Sorare application and also to grow the team behind this game, currently composed of 17 people.
Sorare: Collect your favorite players
Presentation of Sorare
Created by two French, Nicolas JULIA and Adrien MONTFORT, Sorare is positioned as an innovative gaming experience managed by a blockchain! Sorare is a fantasy football game where you will collect player cards in order to compose teams to play matches.
What's interesting here is that you actually own the cards in your collection, as they are based on NFT tokens (Non Fungible Tokens). These tokens are unique, or in very limited quantities. These cards can be traded with other players, and have real value!
The first game that allowed the use of Sorare cards is SO5 (Sorare5), where you can compose your team using 5 cards that you have in order to participate in tournaments (Game Week). These will obtain scores according to the actual performance of the players thanks to a partnership with Opta, one of the biggest football data providers.
Register on Sorare
Registering on Sorare is very quick and easy.
Click here to go to the registration page .
Then click on the "Register" button  in the upper right corner of your screen.
Enter your email address, a username and a password.
Accept the terms of use, then press "Send".
Here you are, you are already ready to start the adventure!
Sorare cards
There are 4 types of Sorare card:
Commons (grey): These are not redeemable and are collected as a reward during the in-game tutorial, as well as participating in a Starter League Rookie.
The other three types of cards are considered digital collectibles, representing a player and a specific season.
These cards can be exchanged completely freely through any application having Sorare as a partner, with transparency on the history of the card (won at auctions, reward for a Game week, for sponsorship…).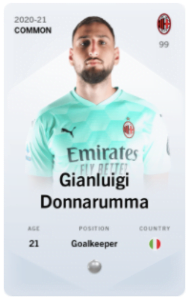 To know:
The card can be used throughout the player's career. For example, a card from Kylian Mbappé for the 2020-2021 season at PSG could be used even if he was to leave for Real Madrid for the 2022 season, as long as he plays in a football league covered by the data. of the Opta website.
The scarcity increases scoring bonus card (from 0 to 10% for rare, 20 to 30% for Super rare and 40 to 60% for Unique).
By using the card, she gains bonus XP over time, which increases her bonus.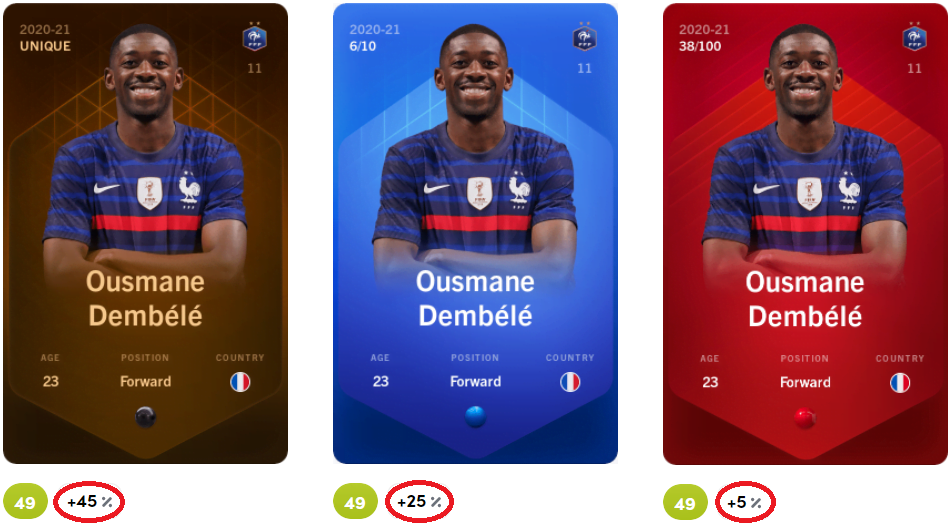 Buy a card on Sorare
First of all, note that the game works on the Ethereum blockchain, all transactions made are in ETH (Ether). You will find next to each price in ETH, the equivalence in dollar.
There are 3 different ways to buy a Sorare card:
Auctions (primary market): Sorare issues new cards through an auction system, where managers compete to acquire them. The last prize at the end of the scoring wins the card. You can also bid on "packs" which bring together several players, generally from the same team.
Everything is done in the Market tab > New cards> Cards: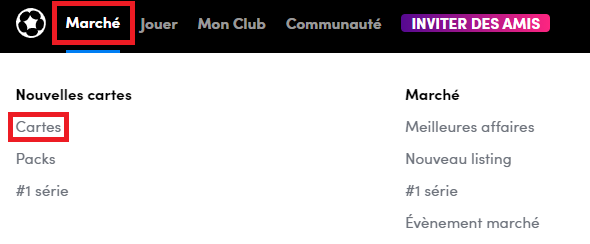 Fixed prices (secondary market): Managers sell the cards they want to part with at a price that they set themselves . You can do your research using different filters.
To do this, you must go to  Market> Market> Best deals or New listing: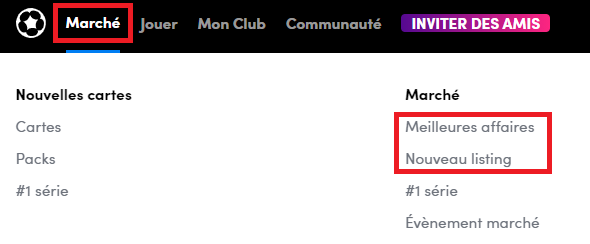 Direct offers: Finally, you have the possibility of making purchase offers for a player directly to his manager. For this you can search for a specific player, then by clicking on his card you can see which manager the card belongs to and send an offer:


Sell ​​a card
To sell one of your cards you must first go to  the My Club > My Cards tab:
Then you will have a view of all the cards you own. By clicking on one of them you will see the option "Sell ​​My Card":
Here you can list your card for any price you want. This sale will be visible to all other managers. It is also possible to set a minimum acceptable price to receive offers to buy from other managers for your player.
A few points to note:
A player's sale expires after 48 hours. You will therefore have to redo the sales process if the player has not been sold during this period of time.
If one of your players is sold and is registered for a Game Week that has not yet started, you will receive a notification and you will then need to change your team with an available card.
On the other hand, if the sale of your player is carried out during a Game Week in progress, his score will be well maintained.
When selling a card, don't worry if your wallet isn't immediately credited, the transfer to the blockchain may take a little while.
Add funds to your wallet
There are 3 methods of depositing funds on Sorare , for the purpose of making purchases:
Buy directly with your bank card: In our opinion, this is the worst solution, because there is a 10% fee.
In addition, during an auction purchase, you will be debited on each attempt (and credited during an overbid). Banks are not keen on this kind of transaction, so be careful.
We do not recommend that you go through this method, even if it is the easiest.
Ramp: This consists of crediting your Sorare account using your bank card or by transfer. Note that with this method, the costs remain high and above all, they are variable. There will be more costs by credit card than by transfer. Convenient for adding small amounts.
Using a decentralized wallet: We recommend using the MetaMask wallet. Via this solution, you will be able to buy Ethereum (ETH) on an exchange platform and transfer it to your Sorare account connecting your decentralized portfolio. In this case, the costs will be the lowest, but this kind of transfer can be more complicated.
The different leagues
So far, Sorare has set up 9 different leagues, including:
4 regional leagues
3 global leagues
2 special leagues
Regional leagues:
European Champion: It brings together players who are part of the Top 5 Europe, that is to say from the Premier League, La Liga, Serie A, Bundesliga and Ligue 1, broken down into 4 divisions.
Challenger Europe: It concerns players playing in Europe outside the 5 major leagues, such as Russia, Belgium, the Netherlands, Portugal, etc…
Champion America: You can select players playing in MLS, Superligua Argentina or Liga MX.
Champion Asia: You can select players playing in J League, K League or Chinese Super League.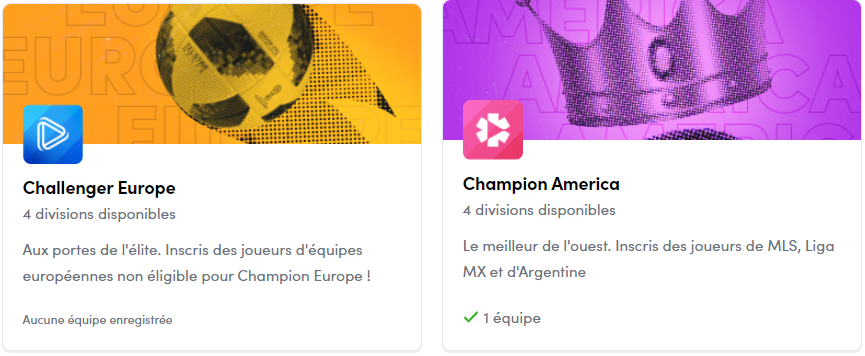 Global leagues:
All Star : It englobes 4 divisions in which you can field players from all over the world.
U23: It allows to align all the players in the world who are 23 years old or less on July 1st of the current year.
Rookie: You can align your common cards. It is limited to 8 participations.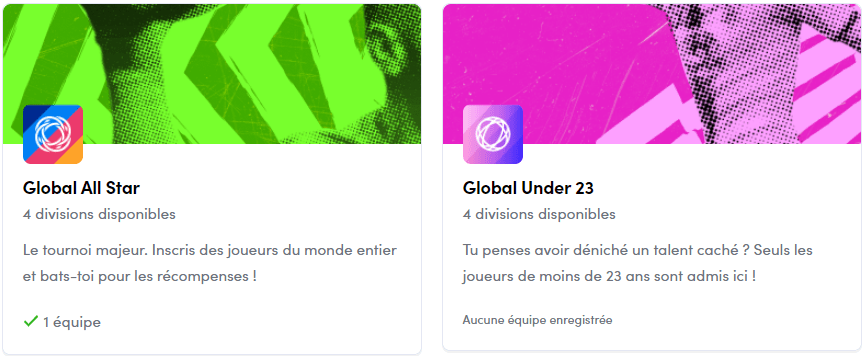 Special leagues:
Training: It does not earn you rewards, but allows all players in the world to participate in a tournament, to grant XP to your cards.
Special of the Week: There is only one division, with varying criteria each Game Week.
For example: reserved for cards of a specific season, minimum age of players required, etc …
Tournament dates
SO5 tournaments are played out based on real-life matches. These tournaments are called Game Week. Two Game Weeks are organized per week, from Friday to Monday and from Tuesday to Thursday.

Build your team
To participate in a tournament, you will need the following cards:
Guardian x1
Defender x1
Midfielder x1
Forward x1
And an extra player, who can be a defender, a striker or a midfielder.
Selecting a captain will award you a 25% player scoring bonus. All types of cards can be captain, except common cards.
You cannot use the same card twice in a team.
To compose a team, you must select a Game Week (in the Play tab ), then choose a league and finally enter a division.
You will then access the following screen:
On the left of this page, you can see your available players sorted by their position, but also more precisely those who have a match planned during this Game Week.
By checking the "STATS VIEW" you will be able to see the scores of the player's 5 previous matches. DNP stands for Did Not Play, so this player has not played the previous game(s).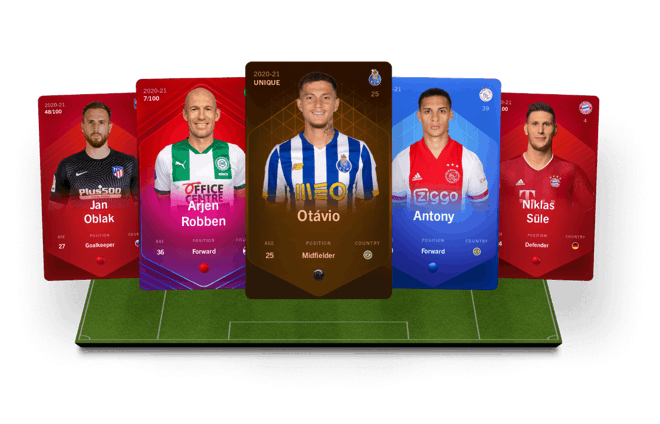 SO5 scoring
Many things come into play in calculating a player's score. First of all, understand that this is calculated based on his performance in real life matches. The score is between 0 and 100. The total score is made up of the decisive score added to the full score.
On each player's map, you can see the scores of their team's last 5 games.
The decisive score:
The decisive score concerns all actions having a direct impact on a match. They are easily identifiable during a match.
A player starts at level 0 (35 points for a starter and 25 points for a substitute).
Each positive impact stat takes the player to the next level. Each negative impact stat takes the player to the previous level.
Levels above level 0 guarantee a score, it cannot be lower than the minimum for that level, regardless of the overall score.
This score is calculated using the following grid.
The full score:
The full score takes into account all secondary statistics. They are more difficult to identify during a match.
Sorare decided to keep this aspect of scoring because it allows to statistically determine the impact of a player during a match, especially for defensive positions.
The total score:
To get the total score, just add the deciding score to the full score, not forgetting to take the XP bonus from the card.
Game Week rewards
First click on the "Play" tab, then on "View Prizes" to see the weekly rewards. Also select the league and division in question.
Card rewards change every Game Week.
Note that the Global All Star tournament offers fixed rewards per level: Score> 205 = 0.01 ETH and Score> 250 = 0.02 ETH.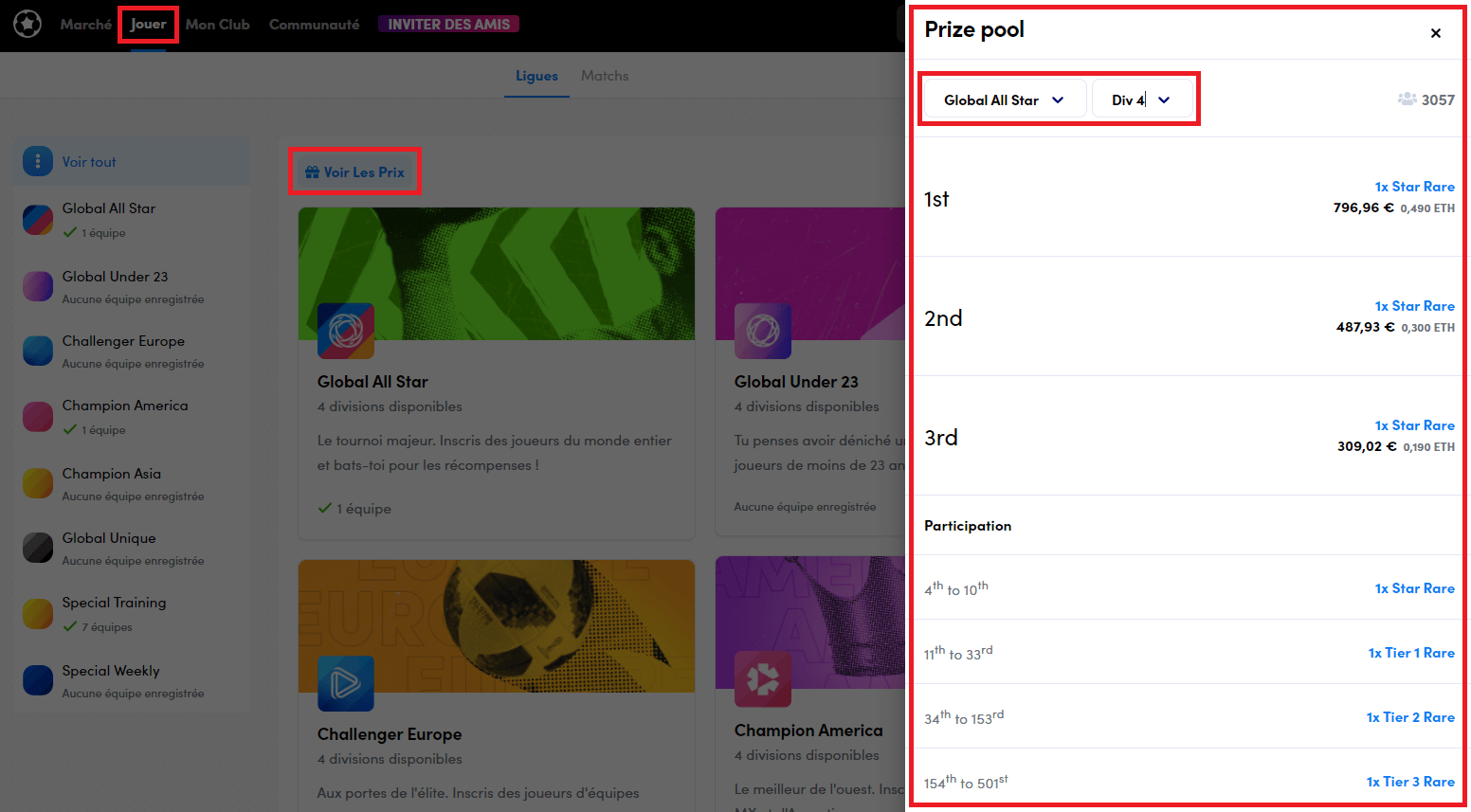 Our little tips for getting started on Sorare
Getting off to a good start on Sorare is very important for the future!
During the "tutorial", you will have to quickly choose your 3 clubs of heart, then follows an opening of packs containing 4 common cards of these clubs.
It is important to choose Sorare licensed clubs, otherwise your players may not be rated for their matches. We advise you to choose a European championship club, one from America and one from Asia. This will make it easier for you to participate in SO5 throughout the year, due to the frequency of the championships in real life.
In addition, Goalkeeper common cards are real assets for a good start!
Absolutely use Soraredata. An essential free tool to achieve good financial business, but also to compose your SO5 teams.
Consult sites specializing in football such as Transfermarkt, Footmercato, Flash Result… In order to inform you of the player's condition (injury, non selections, etc…) and not have the bad surprise of seeing your player's score at 0.
Do not hesitate to trade in the secondary market by sending buy offers to other managers. Note that a manager who has won his card as a reward at a Game Week may be more receptive to negotiation.
Don't get excited about auctions! Be careful not to buy a player for more than on the secondary market.
Finally, when registering, go through a referral link to get a free rare card after winning 5 auctions.