StormGain - An interesting all-in-one platform
StormGain is a crypto platform that offers many features, with a particular fee system. The services offered seem focused on the trading aspect, the platform offers leverage up to x300. But it also emphasizes support for beginners, by offering an efficient interface, explanatory videos, a dedicated demo account, and many other things that we will review.
The summary of our StormGain guide
What is StormGain?
StormGain cryptocurrency trading platform was founded in 2019, by Alex Althausen.
Member of the "Blockchain Association" and official partner of the Lazio football club, StormGain has a trustworthy background.
This platform offers a limited number of cryptocurrencies, but it is very complete in terms of services, detailed below. You can do the usual spot buying there, but especially trading with very large leverage effects (up to x300).
By combining its traditional and advanced trading functionalities, its pleasant and easy- to-use interface, while benefiting from 24/7 customer support, StormGain wishes to offer an all-in-one solution in the trading of cryptocurrencies.
StormGain is accessible through your internet browser, or via a dedicated mobile application.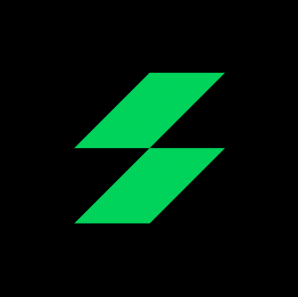 Registration on StormGain
Opening an account on StormGain is really easy. Start by clicking on the following button to access the registration page:
To register, you will only have to enter an email address, a telephone number and a password.
You will not need to make any additional checks, except when requesting a deposit, where you will have to validate your email address and phone number for the first time.
When registering, you can enter the code "BONUS25", in order to get a welcome bonus of 25 USDT on your first deposit of at least 100 USDT into your trading account.
Note that registration to this platform is not open to US citizens.
What StormGain offers
Let's take a look at what users of the platform benefit from:
Real transparency in the committees. You can find all the platform fees and limits by clicking here.
Average cost compared to the market, but with an interesting trading fee method! Indeed, for the trading part with levers, there is no charge when taking a position. A fee will be withdrawn up to 10% of profits when a position is closed. In the event of closing at a loss, no additional costs are applied.
FIAT deposit fees are 5%, but note that the platform regularly offers 0% deposit offers via credit card.
Trading signals to help you in your decision making.
Video lessons that will allow the most beginners to start trading.
Leverage up to x300. We obviously do not recommend turning to big leverage, but it is still important to mention this point.
A preloaded demo account with 50,000 USDT, which allows for risk-free transactions to learn.
A kind of Bitcoin faucet to receive small amounts of BTC for free.
Interest rates of up to 12%.
Invest in cryptocurrencies, stocks, and even gold and silver, all in one place.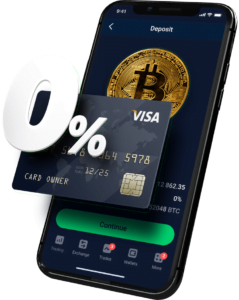 Debuting on the platform
Following your registration, you can start by going for a tour of the video lessons, and your demo account, in order to properly handle this tool.
You can then make a deposit. All of this happens through the top right corner of your screen. You can directly proceed to the purchase of several different cryptocurrencies, using your bank card, very quickly. The minimum deposit is $50.
If you don't want to buy new cryptos, you can also deposit Bitcoin directly through this same menu.
Once you have cryptocurrencies in your wallet within the platform, you can start trading and making exchanges.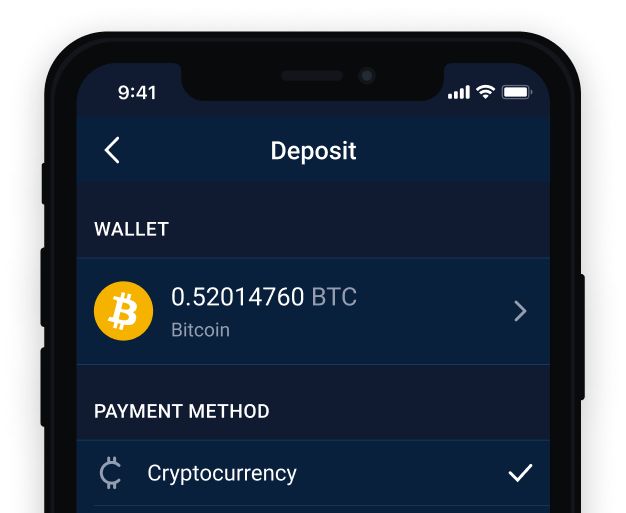 StormGain trading
Let's get to the heart of the platform, trading. As on many other platforms, you can bet up (Long), or down (Short). Remember that fees up to 10% of your profits will be taken, only on your positive closings.
The trading interface is simple and efficient, refer to the points in the image below:
Select your trading pair. We detail the available pairs in the next paragraph.
The chart of the selected pair, as well as the indicators of your choice.
The Order Book, which lists all the orders placed on this trading pair. In red the sell orders, in green the buy orders. We see the price, and the quantity to sell/buy.
Below you can see flash news and various market information.
On the right of the screen, there is the area to place orders. There are two methods for this. With the first, at "Market", you just have to indicate the amount of USDT to spend. The order will be made at the current market price as soon as you have validated your order.
The second method, in Limit/Stop, allows you to indicate a specific price at which you wish to take a position, as well as the quantity.
This box allows you to specify the desired leverage. This can amplify your winnings, but also make you lose everything in seconds. Be very careful with their use. Note that StormGain offers leverage of up to x300 on Bitcoin.
The Take Profit allows you to pre-set a goal of profit-taking, to automatically close your position when the asset price reaches the input value.
The Stop Loss  enables you to automatically close your position, generally down to contain your losses if your scenario does not go as planned.
At the very bottom, you will be able to see your active positions, your Limit/Stop orders, as well as those that have been closed.
In addition, by clicking on one of your active positions, you can access the detail, and place your Take Profit and Stop Loss thereafter.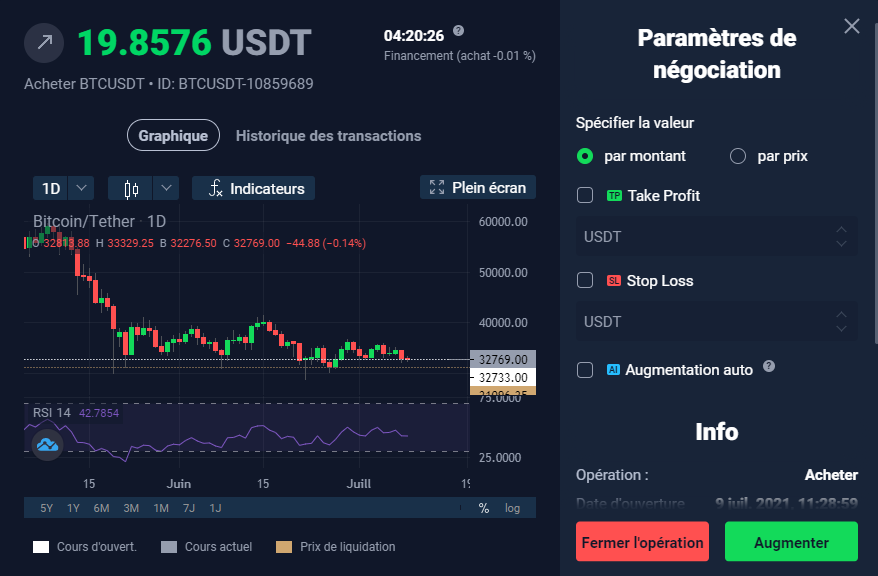 Possible investments with StormGain
On this platform, we can find 3 categories of assets:
Trading assets.
Indexes.
Equities and commodities.
Trading assets
For "futures" trading assets, you will find a total of 55 exchange pairs. All the main cryptocurrencies on the market will therefore be present, such as Bitcoin, Litecoin, Ethereum, Cardano, Stellar, etc.
Indexes
Then you will find indexes, which are financial instruments made up of several assets in the cryptocurrency market. The price of an index represents the price ratio of the instruments it includes and which evolve according to their performance on the market.
Indices can be suitable for traders or investors, whether you are experienced or just starting out. Overall, they allow you to:
Minimize your number of transactions, while diversifying.
Buy multiple cryptocurrencies with just one click.
Monitor the overall performance of the market.
Three indexes are available:
Crypto 3.0 Index: Includes equally Bitcoin, Ethereum, and Ripple.
Crypto 5.0 Index: Includes equally Bitcoin, Ethereum, Ripple, Litecoin and Bitcoin Cash.
And the Crypto Index 10.0: Here each currency has a share proportional to its volatility. The higher the volatility, the greater the weight of the currency in the index. It includes the following cryptos: Bitcoin, Ethereum, Ripple, Litecoin, Bitcoin Cash, Dash, EOS, Cardano, Monero, Bitcoin SV.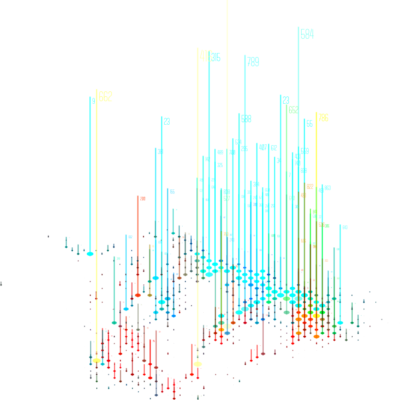 Equities and commodities
First of all, understand that these stocks are derivative contracts that allow you to participate in the price movements of certain traditional stocks. When the price of the real asset falls, derivative contracts follow. Therefore, trading derivative contracts will bring you the same results as in the traditional stock market.
We can note two real advantages to derivative contracts compared to the traditional market:
A much simpler registration process.
The possibility of acquiring a fraction  of a share, which is not traditionally feasible.
Note that these assets can only be traded during traditional market opening hours.
The tokenized actions available are as follows:
Google
Amazon
Apple
Tesla
AMC Entertainment
GameStop
For commodities, the list is currently more limited, but it has the merit of existing:
XAU for Gold.
XAG for Silver.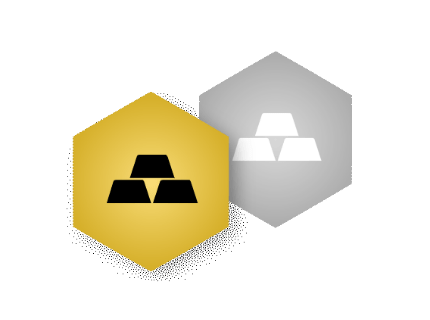 Get trading signals
StormGain trading signals are given by the combination of AI technology, and expert financial market analysis.
You can easily apply, or at least take into account, these signals when trading. This in order to support your decision-making, and potentially minimize the percentage of risk. You still remain in control of your actions, of course.
Plus, you'll get instant updates and news as well as market analysis every 2 hours.
Precise Stop Loss and Take Profit levels are also offered.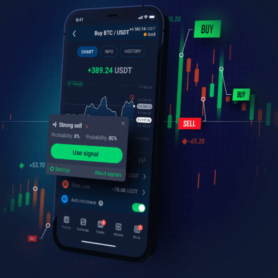 The cryptocurrency exchange (the Spot)
If you don't want to use leverage, you can head to the "Trade" tab, which ultimately corresponds to the Spot space of other platforms.
Two options here:
Quick Exchange: Allows you to easily convert owned cryptocurrency to another currency, at market price. The charge is 0.08%.
Advanced: which looks like the usual Spot, allows you to place Limit / Stop orders, without leverage.
There are currently 8 exchange pairs available:
In BTC: Ethereum, Bitcoin Cash and Litecoin.
In USDT: Bitcoin, Bitcoin Cash, Ethereum, Litecoin and Ripple.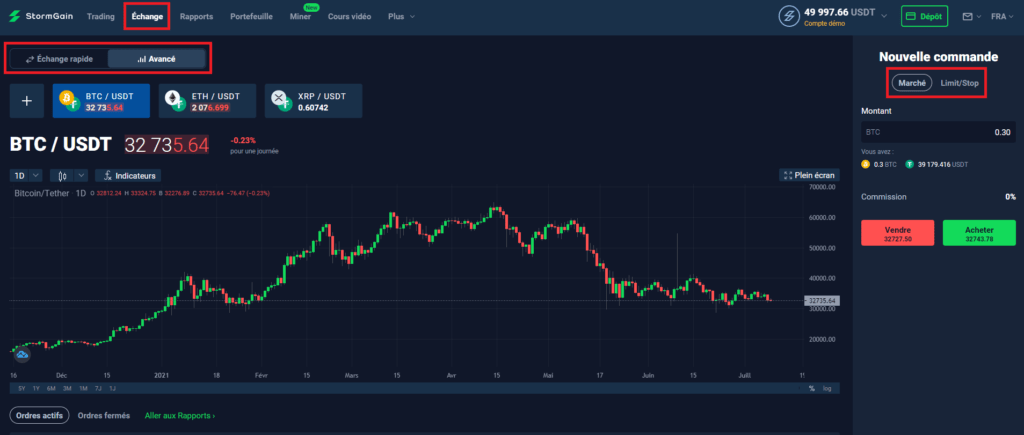 Find the transaction history
The "Report" tab allows you to access all of your trading transactions and trades, whether active or past.

Integrated portfolios
If you want to keep your cryptocurrencies on StormGain, the platform integrates wallets for each of the cryptocurrencies available in the "Exchange" section, plus a few additional ones, namely:
Theter (USDT)
Bitcoin (BTC)
Bitcoin Cash (BCH)
Litecoin (LTC)
Ethereum (ETH)
Ripple (XRP)
Zcash (ZEC)
Dash (DASH)
Stellar (XLM)
You will also find the history of the movements of the cryptocurrencies mentioned above.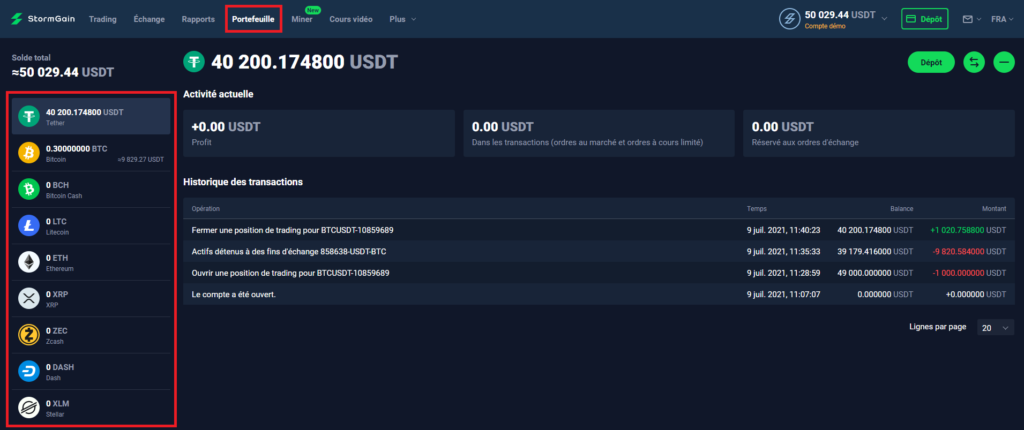 Mine fractions of Bitcoin
Another interesting tool that StormGain integrates, is to collect small amounts of Bitcoin, every 4 hours.
Via the tab "Miner", you will access a page where you can get some free Bitcoin. This is more comparable to a faucet than to real mining.
StormGain specifies that this feature does not use your phone or computer processor.
You will be able to withdraw from 10 USDT of Bitcoin collected.
A multiplier is in place, changing depending on your trading volume on the platform.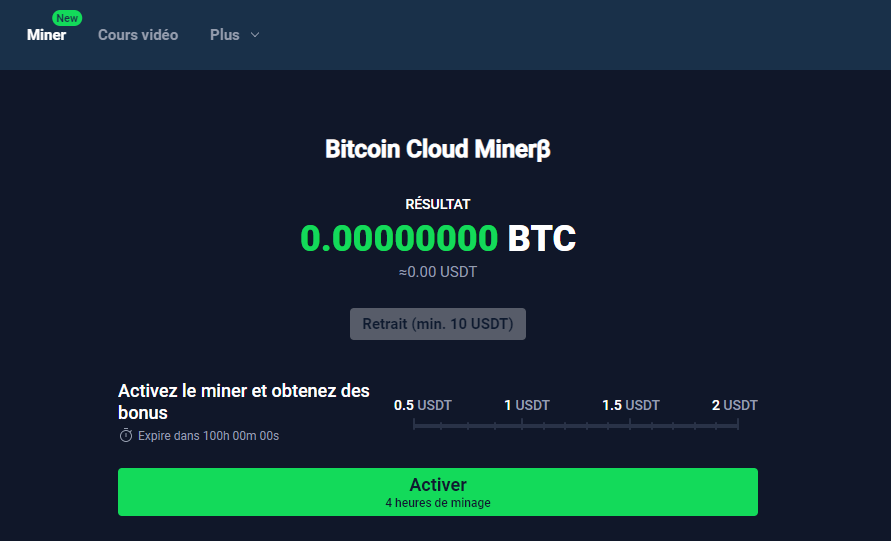 Our conclusion on StormGain
StormGain offers many services within its platform. This does not offer a wide choice regarding the exchange of cryptocurrencies without leverage. The offer remains more oriented for people looking to trade, with high leverage effects.
We also appreciate the positive aspect of accessibility for beginners, who we hope will not play too hard with the famous levers. Simple and intuitive interface, explanatory videos, demo account, trading signals, possibility of obtaining fractions of Bitcoin for free… In short, there is something to seduce. 
The presence of indices is also appreciable, despite the fact that we do not really understand the choice of integrating Bitcoin SV into the Crypto 10 Index.
Not to mention being able to access tokenized shares, as well as gold and silver.