The Crypto.com application - The best of the Visa Crypto credit card!
If you already have a foothold in cryptocurrency, you've surely heard of Crypto.com payment cards. If this is not the case, we will show you here how to get one and thus benefit from a cashback of up to 8%, on all your purchases! We will also review the functionality of the Crypto.com app. 
We will see step by step the components of the Crypto.com application:
Enter our referral code zd3a26c3j8 to receive a $25 bonus!
Open an account on the Crypto.com application
To proceed with the creation of an account on the Crypto.com application, start by clicking on this link. Remember to enter the code zd3a26c3j8 to receive $25 sign up bonus in CRO!
Then download the app from the Apple Store or Google Play Store.
Register by entering your e-mail address. Validate this e-mail address by clicking on the confirmation link sent to you (check spam). Back on the application, now enter your mobile phone number. Enter the code received by SMS, and you are registered!
It will then be necessary to proceed to the usual identity verification (KYC). This is mandatory in order to be able to order Crypto.com payment cards, logical.
The items required to perform the verification are as follows:
Your  name and first name (s).
An identity document (passport, identity card).
A selfie to make sure the identity document is yours.
In addition, when ordering your card, be aware that you will also need to provide proof of address dating back less than 3 months (telephone, water, electricity bill…).
The different choices of Crypto.com cards
Let's move on to the most interesting part! You will have to choose the Visa card you want to order!
There are 5 levels of cards at Crypto.com, available in 7 colors. Each level has different advantages. You will see that the level 1 card (blue) is completely free. The others are also in a way, but they require to lock a certain amount, recoverable after 6 months. However, the benefits will be greater if you want to keep the amount blocked beyond this period. The amount to be blocked varies depending on the level of the card, and is in CRO, the native token of Crypto.com. If you want to know more about this token, check out our guide to the Crypto.com exchange.
With the table below, you will be able to learn about the various advantages linked to the level of the card: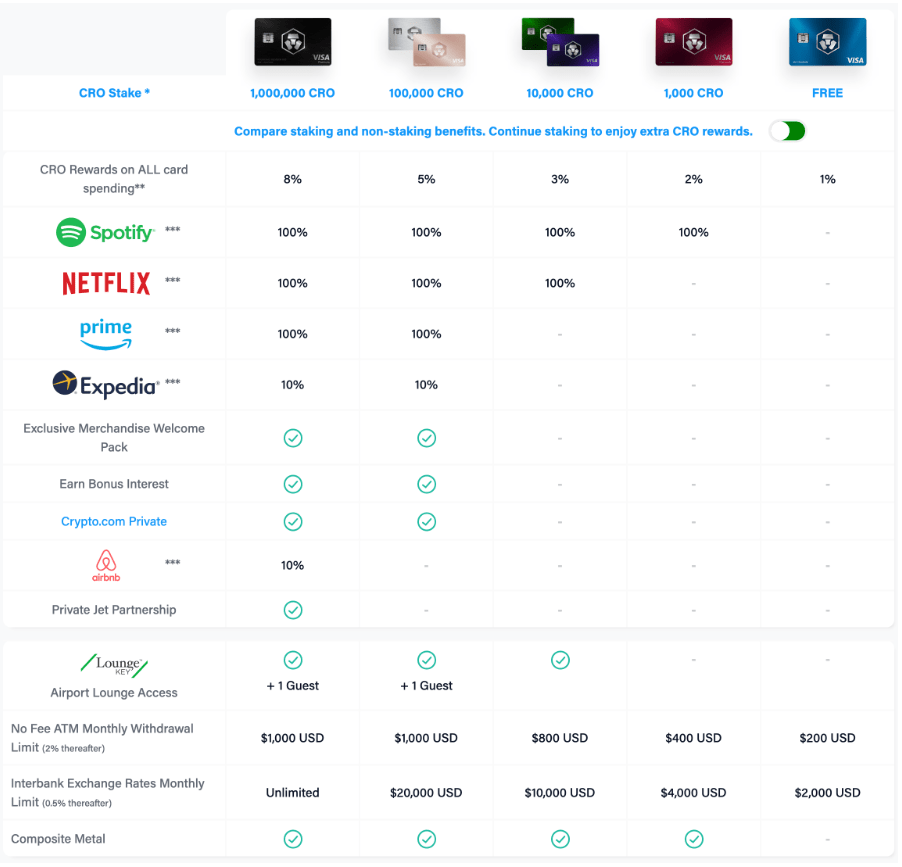 Note that all cards are metal (except the blue one)!
If, for example, you want to have the Ruby (red) card , you will need to pay for staker (block) 1000 CRO. This represents less than $100 currently (update 24/10/20)! And you will already get 2% cashback (in CRO) on all your purchases! You will also be able to enjoy Spotify for free.
Plus, with the $25 sign-up bonus (with our code zd3a26c3j8), this card will come back to almost half the price in the end!
If you have enough money to save 1 million CROs, you could be the proud owner of the Obsidian Black card. This will give you free access to Netflix and Amazon Prime in addition to Spotify. 10% discount on all Expedia and Airbnb sites. And the huge 8% cashback on all your purchases.
Please note, from 2 November 2020, the amounts from CRO to staker will change for new subscriptions: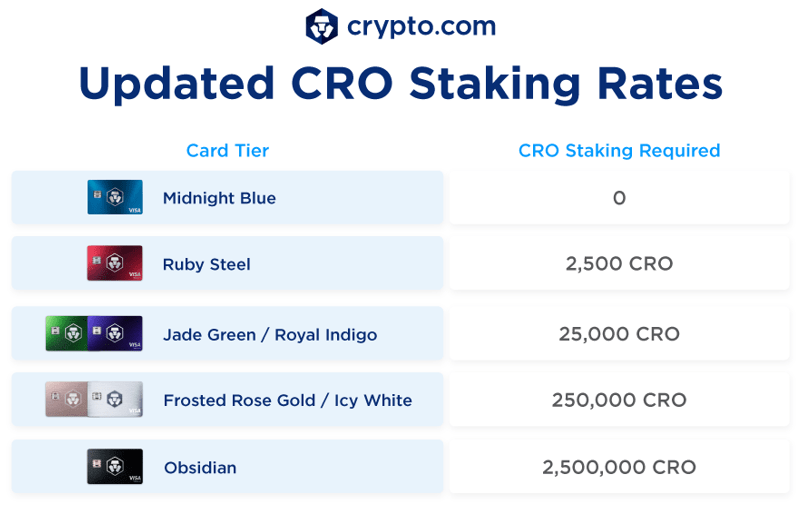 Ordering a Visa Crypto.com credit card
To place the famous order, go to the menu at the bottom right of your Crypto.com application, named "Card". Select your choice of card and place an order.
You will see a reminder of the number of CRO needed to obtain the selected card. You are also told that they will be locked for 6 months.
Once the order is validated, a summary will confirm the amount of CRO locked, as well as the weekly limit of your card.
Your card will be sent to you by post, it may take a long time (6 weeks). In the meantime, you can use it virtually, or on the internet!
Reload your card account
To use your Crypto.com card, it must be recharged in FIAT currency. You do not pay directly in cryptocurrency.
This is also one of the main differences with the card offered by Binance, which you can find in the guide by clicking here.
But you can still top up your Crypto.com card directly with the following cryptocurrencies:
Bitcoin (BTC)
Ethereum (ETH)
Litecoin (LTC)
EOS (EOS)
Stellar Lumens (XLM)
Ripple (XRP)
And the PAX and Tether Stablecoins (TUSD)
Reloading is done on your application in the Map tab, then the + Reload button.
You can also top up your balance by credit card. Or via your Fiat Wallet, which is funded by bank transfer, which we recommend.
You are ready to use your new Visa card, and benefit from your cashback!
Take advantage of Crypto.com Pay
You can access the services of Crypto.com Pay through the app, by clicking on the central button, then Pay.
This service allows you to buy gift cards from more than 300 brands, and benefit from even more cashback (up to 10%)!
In the example below, I can buy a $50 Carrefour gift card, and I will directly benefit from 5% cashback!
In addition to gift cards, two other services are available with Crypto.com Pay:
You will be able to send cryptocurrency to your friends with ease!
You will be able to pay directly by QR code on participating platforms and merchants.
Buy and sell cryptocurrencies on the app
You can buy, sell, trade, and transfer cryptocurrency directly from the Crypto.com app. Go to the application, on the central button, then on Wallet Crypto. You will then find the list of available cryptocurrencies. Select the one you want to buy, sell, or trade.
You will then have 3 choices:
Buy:
To get cryptocurrency, you will have 3 ways to make the payment:
By credit card : There is a 3.5% fee.

From your 

Crypto Wallet

, if you want to pay (

trade

) with another cryptocurrency.

With your Fiat Wallet balance, to pay directly in euros (after having funded this balance by bank transfer, free of charge).
Sell:
To sell your cryptocurrencies. Again 3 choices are available to you:
Via your Crypto Wallet, to sell your crypto to another crypto (exchange).
Switch the value of your crypto to your Card Wallet, and therefore fill the balance of your Visa card.
Convert your crypto directly into euros, in the Fiat Wallet.
Transfer:
To make cryptocurrency deposits and withdrawals.
Nothing specific about the deposits, it goes as usual.
For withdrawals, you will have 3 different choices:
Towards an External Wallet (in most cases).
To the Crypto.com Exchange, if you want to trade your crypto in a more suitable location.
Transfer your crypto to another Crypto.com user.
Save on the Crypto.com app
On the Crypto.com application, you can also directly save your cryptocurrencies. This system is called Crypto Earn, you can stake your crypto there and earn interest. You can access it through the Accounts tab, then Crypto Earn.
You have the choice between 3 different staking times:
Flexible: No blocking, minimum rates.
Block your crypto for 1 month: Correct rates.
Block your crypto for 3 months: Very good rates!
The earnings are credited to your Wallet every 7 days. They are paid in the same crypto as the one deposited.
Also note that the interest is higher if you have at least 10,000 CRO stacked on the Crypto.com application.
Know that there are minimum amounts to respect for each crypto in order to benefit from these investments.
Some examples of maximum rates:
Tether (USDT), USD Coin (USDC), Dai (DAI), TrueUSD (TUSD), Paxos Standard: 12%
Bitcoin (BTC): 6,5%
Crypto.com (CRO): 6%
Ethereum (ETH): 5,5%
Elrond eGold (EGLD): 3%
Ripple (XRP): 3%
Bitcoin Cash (BCH): 3%
ChainLink (LINK): 3%
Binance Coin (BNB): 3%
Litecoin (LTC): 3%
Cardano (ADA): 3%
EOS (EOS): 3%
Stellar Lumen: 3%
Tezos (XTZ): 3%
Cosmos (ATOM): 3%
VeChain (VET): 3%
OmiseGO (OMG): 3%
Decentraland (MANA): 3%
…
We hope this guide has helped you benefit from the great services that Crypto.com offers! Remember that you will be able to release blocked CROs in 6 months, but then you will lose some benefits. Conversely, if you want to see bigger, and upgrade your current map, it is also possible at any time!
Enter the referral code zd3a26c3j8 to receive a $ 25 bonus!