Just Mining - Passive Cryptocurrency Income!
Do you want to invest in cryptocurrency in an easy way, without the hassle and taking advantage of passive income? Just Mining will delight you! This french company offers several types of investments, ideal for your crypto wallet.
Thanks to staking, or even masternodes, you will be able to generate passive income, generally every day! Here we are far from the complexity of mining Bitcoin to generate income!
Staking: The source of your interests
In short, staking is a mechanism for validating the transactions of a distributed network. In order to generate income, the nodes of the network (stakers), wishing to participate in this validation process, place their funds in escrow, without however being really blocked. Thanks to this, the nodes will then be able to carry out their work of validating the blocks. In return, they will be rewarded.
For this guide, we will follow the following plan:
Passive Income in Crypto
So this is a great way to invest in cryptocurrencies. Here we can benefit from the potential surge in the price of a crypto asset, and in addition to  generating passive income, regardless of the state of its price.
Be careful though, the interest rate is defined by the protocol, but the price of the crypto remains subject to market laws. As you can see, this can be a good opportunity to increase your profits. But the value of crypto can also go down dramatically, as always. However, the interest generated can be used to compensate for this possible decrease!
Yes, staking is very interesting, you are right to think that!
In theory, anyone with a certain amount of funds required by the target cryptocurrency's protocol can configure a node and thus participate in the consensus.
However, it is not so easy on the technical side. If you want to embark on this kind of adventure on your own, you will need good computer skills, and read the project documents.
It is therefore much simpler, and advisable, to leave this in the hands of professionals.
Thanks to these service providers, no technical knowledge is required. No server to manage. No node to synchronize. In short, just cashing in!
Best of all, there is no financial minimum when going through a staking service provider. Because the funds of the users are gathered in liquidity pools, directly managed by the company in question.
Just Mining: The crypto service provider
This is the kind of professional who can help you. Just Mining, a french company, well known in the industry. Led by the influencer and YouTuber Hasheur, real name Owen Simonin.
Created in 2017, Just Mining quickly became successful. In particular at first with its service focused on cryptocurrency mining. We are talking about more than 3500 machines around the world, and more than 5000 Masternodes configured on behalf of its customers, in 3 years.
The company can count on a great team of enthusiasts, which obviously grows more and more over time.
The company therefore got its start in cryptocurrency mining hardware and quickly diversified. First, by hosting shared Masternodes, then finally, by offering staking solutions.
The company currently offers 14 different cryptocurrencies, including 6 DeFi projects.
Staking: Cryptocurrencies offered by Just Mining
There are several very interesting projects on Just Mining. With interest rates ranging from 5% to 35%!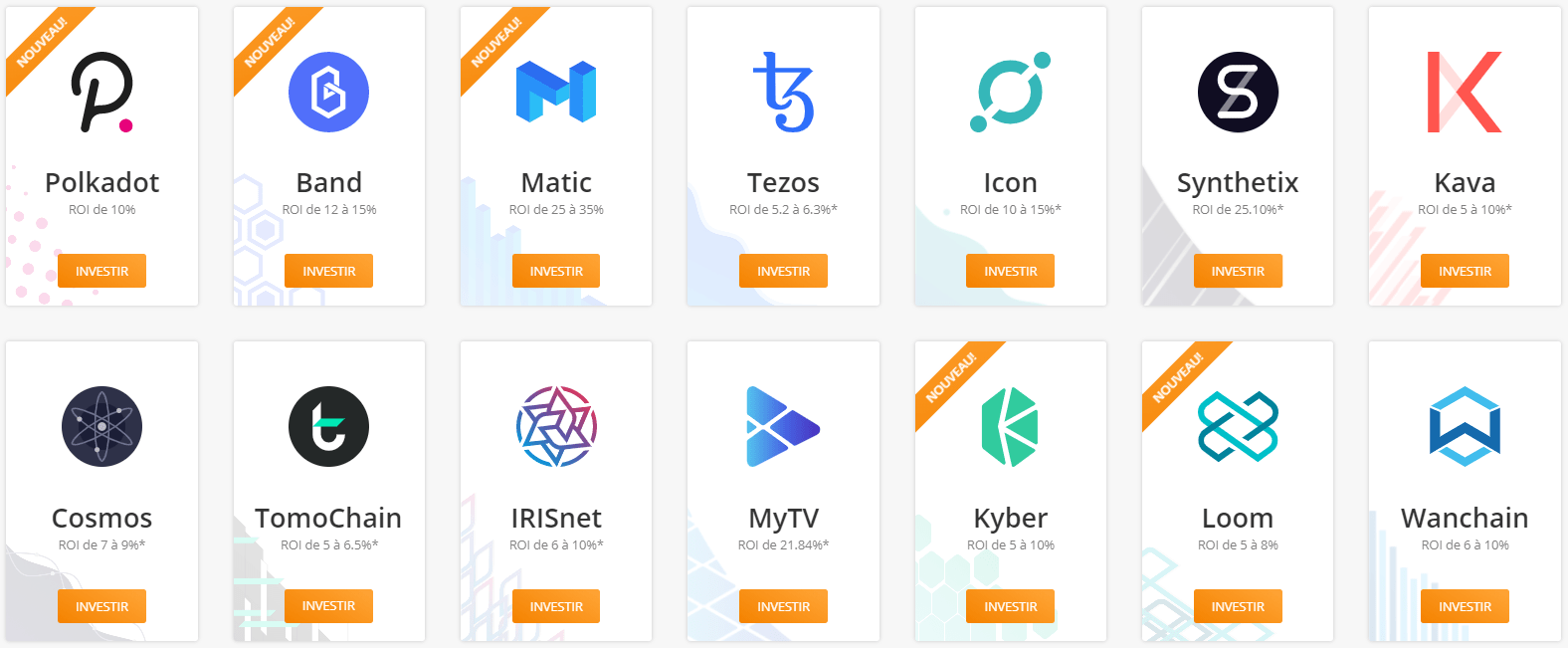 Blockchain infrastructure projects
Tezos is a French project. Well-known smart contracts platform. It recently signed an interesting partnership with Société Générale. Its rate is 5.2% to 6.3% annual interest.
TomoChain, an ultrascalable type blockchain that works on proof of stake. The interest rate is  5% to 6.5%.
Cosmos, and its ATOM token  is the blockchain network, based on the Tendermint protocol. On rate rises from  7% to 9% annual.
IRISnet is a business-oriented service infrastructure for Cosmos. Its IRIS token offers an ROI of 6% to 10%.
Polygon (Matic) is a scalability solution for Ethereum. This project gets one of the best rates, 25% to 35%  per year!
Icon offers a blockchain networking solution, through the Loopchain platform. The ICX, its native token, is used to pay transaction fees and is the benchmark for Icon's DEX. The rate here is 10% to 15% annually.
Decentralized finance projects (DeFi)
Synthetix is one of the pillars of decentralized finance. Deployed on Ethereum, it can replicate many assets. The annual rate is 28%.
Kava is an interconnection platform for several DeFi protocols . The ROI generates 5% to 10% annual interest.
Kyber Network is a decentralized exchange project on Ethereum. Its token is used to pay the operating costs of the network. Its rate yields 5% to 10% annualized interest.
Other available projects
Wanchain is a DeFi focused blockchain network, offering an annual rate of 6% to 10%.
Loom also has a token that can generate interest, ranging from 5% to 8%.
MyTVchain, more exotic, is a french project, offering a private web TV platform dedicated to sports clubs. Its ROI is over 21%.
Just Mining prices
The company is remunerated by taking a percentage of the interest generated by the cryptocurrency staking to which you subscribe. These service fees range from 10% to 15% depending on the project.
Getting started on Just Mining
Click here to open an account, it's very easy!
Once created, you have the choice to subscribe to any service offered by Just Mining.
There are only two choices when you want to subscribe to an offer:
Buy and put these tokens in staking at Just Mining.
Provide yourself with tokens that you already own and benefit from Just Mining's infrastructure.

In the example above, if I want to buy 100 ATOM for the staker, just select the corresponding product, and enter the quantity. It will then be transferred to the shopping cart. The minimum quantity of tokens here is 10 ATOM, or $50. The Tezos (XTZ) is the most affordable, starting with 10 tokens for $20!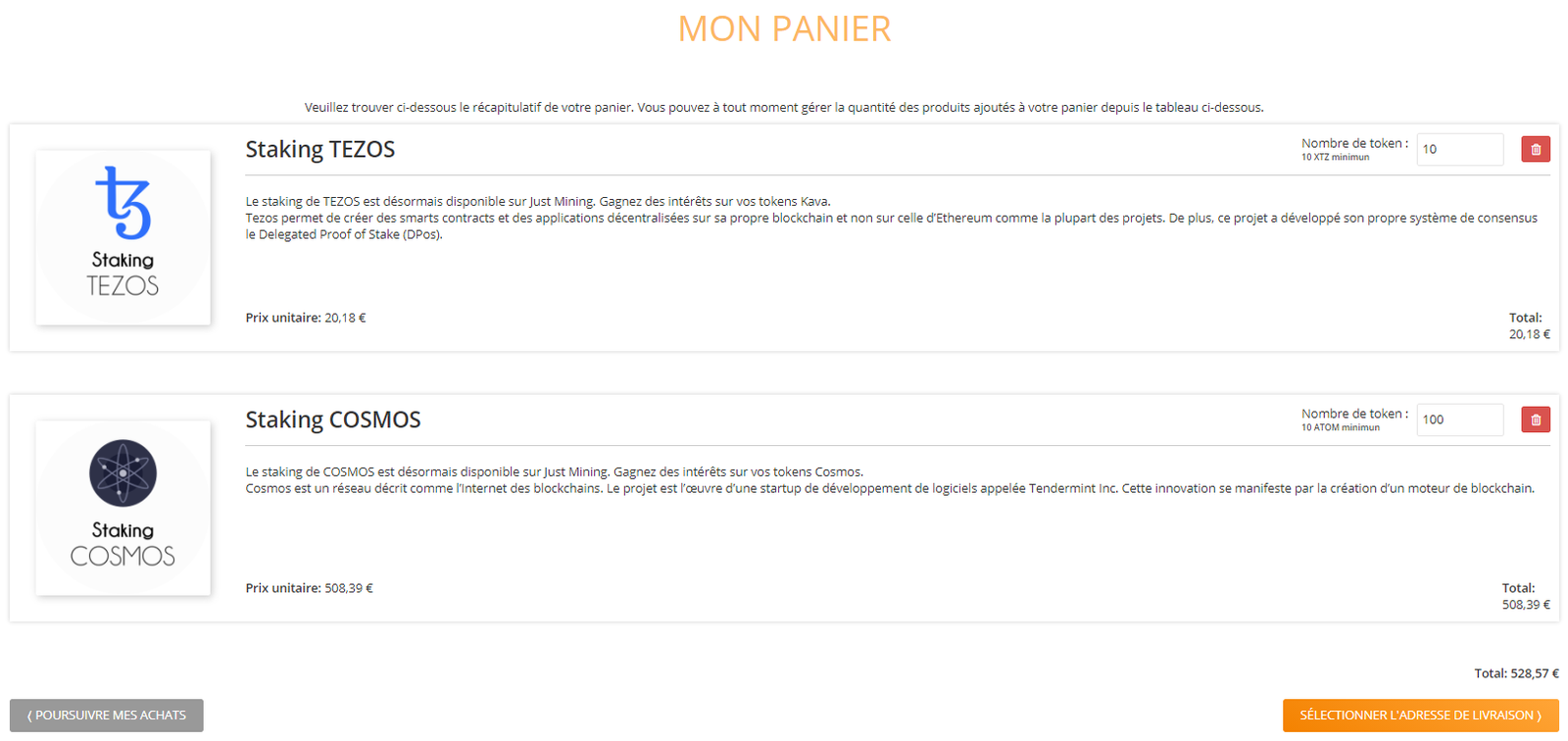 It will then suffice to enter a billing address, then proceed to payment. It is possible to make payment by card or bank transfer, or even in cryptocurrencies.
Cryptocurrencies purchased and staked will appear in My Account > Staking. You will notice that the interests, called Reward, are directly visible in this same place.

The Masternodes
You can also invest in Blockchain security nodes.
Find our complete page on this technical subject in the Academy!
To put it simply, the principle is basically the same as in staking. You buy a quantity of cryptocurrency, here called the collateral or surety, which will generate income.
Just Mining offers the purchase of complete Masternodes, but the prices are high. From $300 for entry, up to more than $80,000. Fortunately, you can also choose to turn to a shared masternode. There you can choose a percentage of Masternode to acquire, depending on your budget.
When buying a Masternode, you will pay commissioning and maintenance costs for the server, because the technical level required for such a deployment is here again much higher than for staking. If you take a full node, you will automatically get a discount.
However, you will notice that the interest rates offered by Masternodes are often above those charged in staking!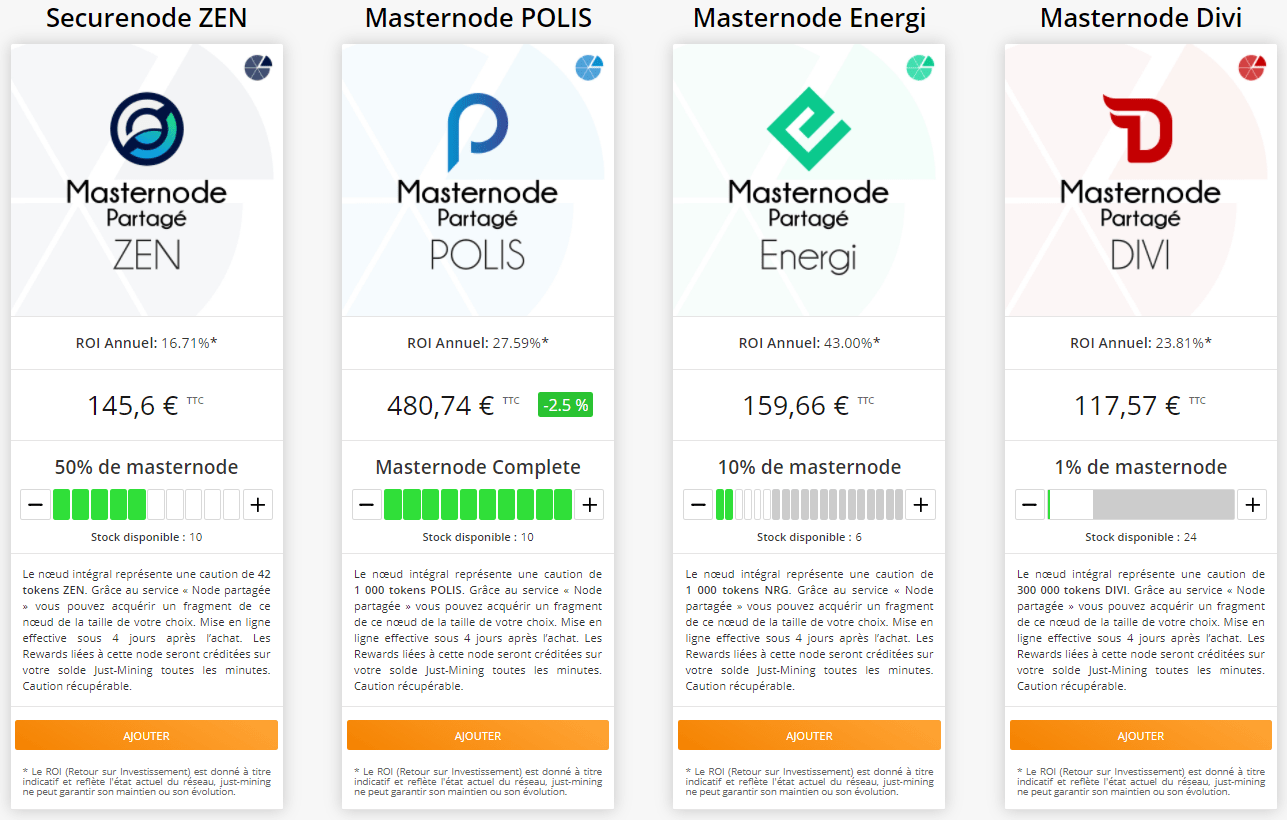 Invest in a mining machine
If you prefer to do it the good old way, be a miner, and acquire an ASIC! These machines are made up of chips programmed specifically for the Bitcoin mining activity.
You will have the choice, according to your objectives, and your budget, between 5 different machines, and even the possibility of making a custom machine!
If you are more of the Ethereum clan, you too can acquire a mining machine, they are called BOBS. These machines are designed to provide the most complete and successful mining experience. They are delivered turnkey. Completed with an AI, the Bobs automatically detect the most profitable algorithm and blockchain to secure in order to maximize your profits autonomously.
Here you will have the choice between 3 models, plus the custom one.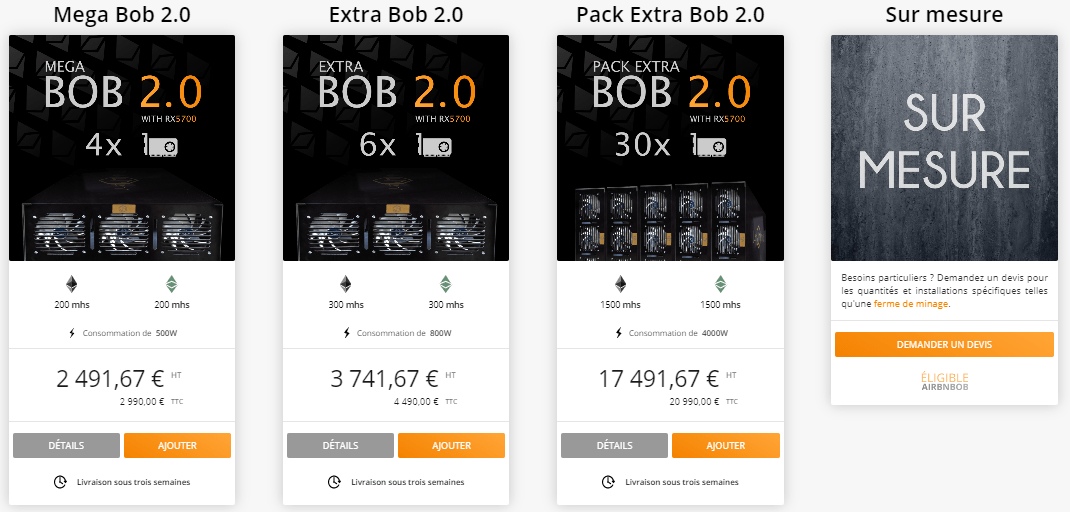 Cloud Mining
Want to mine, but without a machine? So go for Cloud Mining!
You will be able to rent a certain computing power over a determined period (1 or 2 years depending on the contracts). All costs, including electricity, are included in the price displayed, there are no hidden costs.
Invest in a Cold Wallet
To increase the security of your funds, you can purchase a Cold Wallet.
You will have the choice between many models, you will inevitably find your happiness here. The Nano from the Ledger company remain the most commonly used.

With these very easy-to-use services offered by Just Mining, cryptocurrency becomes accessible to everyone. This makes it possible to democratize cryptocurrency while generating interest!
So more Staking, more Masternode, or both? Let yourself be tempted!