TradingView - The benchmark to become better at trading!
TradingView is not a site known only for cryptocurrency, it is famous for all trading assets. We will nevertheless remain focused on the environment dedicated to cryptos. 
TradingView allows you to give you all the right indicators to start trading efficiently and above all to access many charts to make your plots!
TradingView: The Trading Experience?
TradingView is an innovative company created by a group of developers and traders experienced in creating trading software. They share the vision that technology for trading should be simple, powerful and accessible to everyone.
Thanks in particular to the latest advances in cloud computing, TradingView is able to offer interactive charts via any browser to users around the world.
The community is also very present, sharing ideas and working together to improve everyone's skills.
To present this tool, we will see the following points:
Registration on TradingView
To start your registration, click here.
You will arrive on a page offering you several plans, allowing you to benefit from more or less advantages.
To get started effectively, we recommend using the Pro plan, with the 30 day free trial!
You will thus be able to access the functionalities and indicators that we will present to you later.
The Screener
Now that you are registered on the platform, go to the Crypto Screener.
This will greatly simplify your life to find the right shots.
For example, you can configure the display of the following columns:
Market
Last
% Change
Volume
Evaluation
Commodity Channel Index (20)
Fast Stochastic RSI (3, 3, 14, 14)
MACD Level (12.26)
We will not detail the use of these indicators here, but in general terms:
A Commodity Channel Index below -250 means that a market is oversold. It is then likely that it will return in an uptrend.
Conversely, a Commodity Channel Index above 250 means that a market is overbought. It is then likely that it will return in a downtrend.
If in addition to a CCI below -250, the Stochastic RSI is below 3, this may confirm a good time to buy. This obviously remains theoretical.
We will see a little more about it in the next part.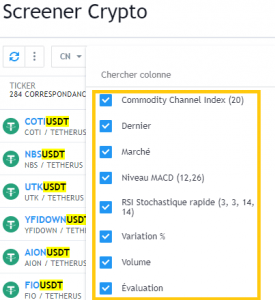 Graphics
Once you've spotted a potential target, click on the trade pair. This can be in a Crypto/USD pair, for example BTC / USDT, but also in Altcoin/Bitcoin, for example SNX/BTC.
A new page will open. Click the Full Graph button.

Once again you will arrive on a new page, this time with the famous graphic.
The configuration of it will obviously depend on the tastes and objectives of each one. For the example, we offer the following configuration: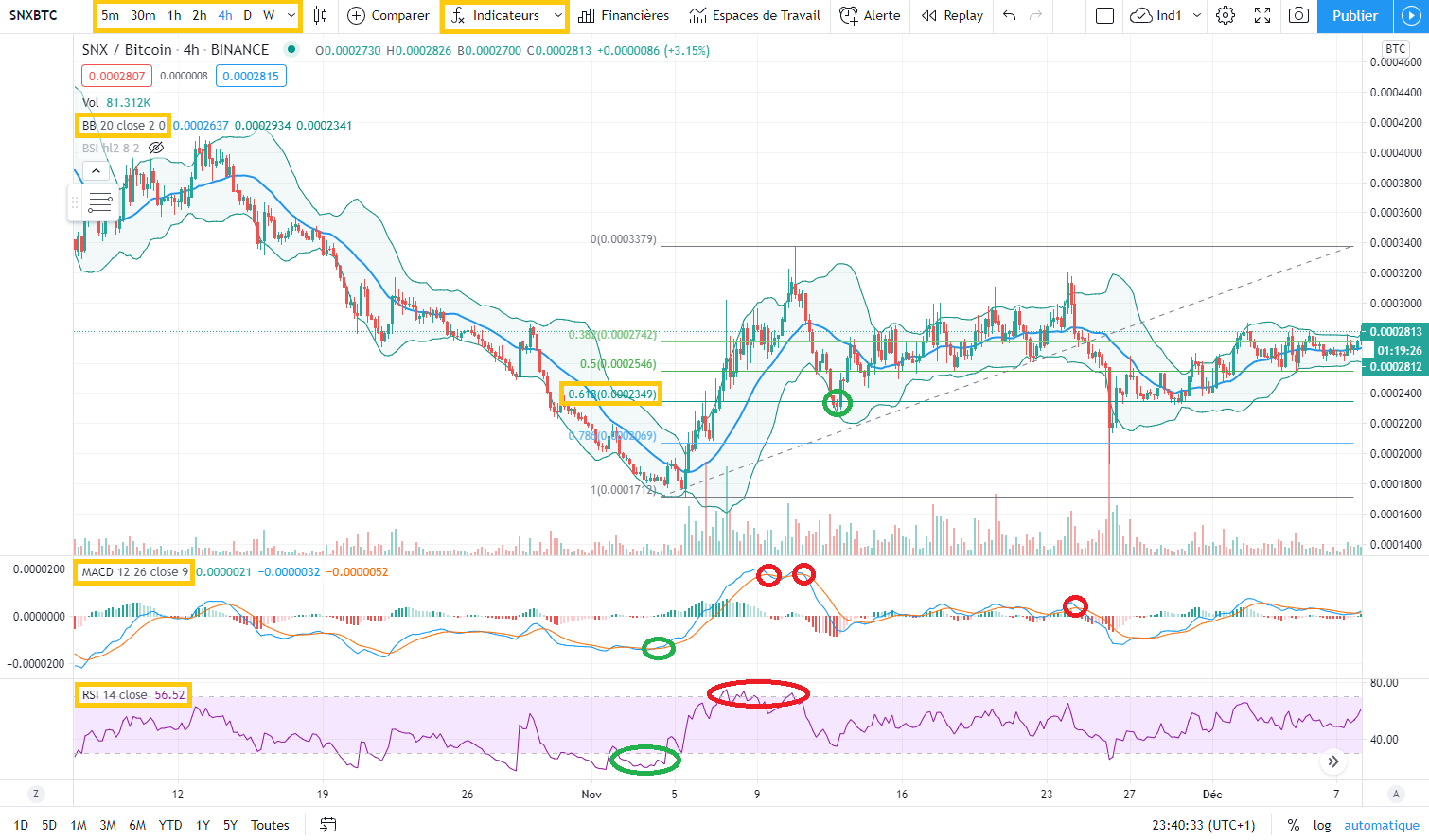 We are using a 4 hour display here, each Japanese Candlestick therefore represents 4 hours of time, in green if the price has risen during this period, in red if the price has fallen.
The unit of time used will depend on the type of entry you want to make. For swing or long term, we will rather use the indicators in 1D (daily) or 1W (weekly).
The indicators used here are:
Bollinger Bands: Gives us the 20-day moving average, indicating the price trend. As well as the cloud support and resistance of the selected market. It also indicates the volatility of the asset.
MACD: Used to confirm trends. Roughly speaking, this indicator can give a buy signal if the blue line crosses the red line from the bottom up. Conversely, a cross from the top down indicates a theoretical sell signal.
RSI: Indispensable indicator, it defines whether the asset is oversold (<30) or overbought (> 70).
We are also using a Fibonacci Retracement here, in order to look for an entry point on a price retracement towards the 0.618 level.
Try it out for yourself!
So that you can calmly get your hands on, you can use the graph below to place indicators, and make your first plots!
We quickly reviewed the powerful tool that is TradingView. Keep in mind that the indicators are always theoretical, do not give them your full trust! Above all, you will need experience, to properly trade cryptocurrencies, or any other market.