Band Protocol (BAND): What is it ?
Summary of the Band crypto card:
If you want to learn more about cryptocurrency every week, follow our
Instagram
! There you will find 
weekly series
, including one called
"Token Sunday"
which presents a cryptocurrency every Sunday, in a simple and synthetic way.
You can download the PDF (FR) of our Token Sunday – Band below!
The fundamental data of the Band Protocol
Band Protocol market data
Below are the basic market informations regarding this cryptocurrency:
Price: It is expressed in dollars ($). There is also its percentage change (%) over the last 24 hours.
Rank: Ranking of this cryptocurrency among all those referenced on CoinMarketCap. This is done according to the market cap.
Market cap: Market capitalization represents the total dollar ($) value of all coins in circulation.
Volume: It represents the total dollar ($) amount of the cryptocurrency in question traded over the last 24 hours.
What is the goal of the Band Protocol project?
BAND Protocol is an Oracle data exchange platform that connects data from our real life (off-chain), to blockchain applications (on-chain), via APIs and Smarts Contracts.
The project has its own blockchain, solely dedicated to the transfer of oracle data. It is decentralized, highly secure and providing a fast request model with low fees.
This project offers developers many new development perspectives to explore, allowing them to use very large "real world" data sources within their decentralized applications.
The origin of the project
The project was founded in 2017, by Soravis Srinawakoon, Sorawit Suriyakarn and Paul Nattapatsiri, then deployed in 2019 on the Ethereum blockchain.
BAND Protocol migrated to its own blockchain on October 15, 2020 during the BAND v2.0 update, using Cosmos SDK.
The company then joined the OpenAPI Initiative alongside Microsoft, Google, and IBM in December 2020.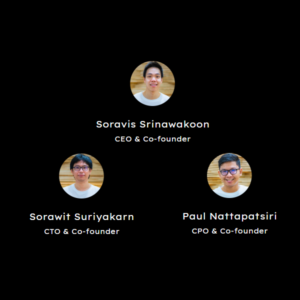 What is its use?
The BAND is the token that derives from the BandChain. It is needed to secure and power the decentralized Oracle network. It covers the following various aspects:
Guarantee/Stake for validators: All validators are required to stake BAND with a high APY, which results to a high probability of being selected to respond to data requests . Underperforming or malicious actors will lead to a reduction in their tokens and therefore their value.
Medium of Exchange: The BAND tokens are used to pay transaction fees, application fees and also for the data access behind the paywall (private API).
Participation in the Governance of BandChain: Token holders can vote for protocol upgrades and parameter changes on the BandChain. The governance process allows token holders to have decision-making power, to shape an oracle network, thus accentuating the decentralized aspect of the BandChain.
BAND can be staked with an attractive interest rate ranging from around 12% to 17% annually. For this, we recommend that you go through the Atomic Wallet software wallet (~ 17%) or directly on Binance (~ 12%).
Management of the economy (as of 07/13/2021)
In total, 100 million BAND tokens will be available with nearly 35% of the supply currently in circulation, i.e. 35 million BAND.
In September 2019, the Band Protocol had used around 5% of TGE funds and the team proposed a roadmap of their development extended over at least 4 years. The funds collected will be spent according to the following allocations :
60% Technical and commercial development.
20% Marketing.
10% Operation.
10% Legal fees and audits.
Diagram of the evolution of the cryptoactive
Where to store your cryptocurrency
If you prefer to take your cryptocurrencies out of centralized exchanges, you can store your Band via various solutions :
Atomic Wallet, a very complete and secure software wallet, in which you can directly store your BANDs.
Trust Wallet, bought by Binance, it has become the benchmark mobile wallet.
Ledger, very secure wallet hardwares, the best known being the Ledger Nano S.
More details on the different types of cryptocurrency wallets on our dedicated page, accessible by clicking here.
Our opinion on this project
The design of the Band Protocol is made in such a way to be able to provide the current fastest and most efficient solution in the field of oracles.
Its strong compatibility allows this protocol to be able to search for informations from a multitude of very varied sources, and to be able to bring it to blockchains via smart contracts.
Band is therefore positioned as a leader in a niche sector. A very good thing for its future development because it continues to get ahead of any competition that is struggling to appear.
It is simple in its integration, offering developers the opportunity to start using oracle data in just a few lines of code, via a predefined interface.
Another interesting development perspective for the project is that it plans to use Cosmos Inter Blockchain Communication (IBC) protocol, in order to achieve its inter-chain data transfers. But this protocol is still under development and it is not clear when it will be operational.
There is therefore a speculative interest on its fundamental. When Band can benefit from the IBC, it will be a strong accomplishment for the project, which will become essential in the development of future applications in the world of blockchains.