Polygon (MATIC):
What is it?
Polygon crypto card summary:
If you want to learn more about cryptocurrency every week, follow our Instagram! There you will find weekly series, including one called "Token Sunday" which presents a cryptocurrency every Sunday, in a simple and synthetic way.
You can download the PDF (FR) of our Token Sunday – Polygon below!
Polygon market data
Below are the basic market informations regarding this cryptocurrency:
Price: It is expressed in dollars ($). There is also its percentage change (%) over the last 24 hours.
Rank: Ranking of this cryptocurrency among all those referenced on CoinMarketCap. This is done according to the market cap.
Market cap: Market capitalization represents the total dollar ($) value of all coins in circulation.
Volume: It represents the total dollar ($) amount of the cryptocurrency in question traded over the last 24 hours.
What is the goal of the Polygon project?
Polygon is positioned as an important participant in the development field of the "Internet of Blockchains", such as Polkadot, Elrond or Cosmos, for example.
Polygon is more particularly a Layer 2 of Ethereum. A kind of network annexed to the main blockchain, which makes it possible to broaden the possibilities developed on Ethereum, by bringing transaction speed and reduced costs.
This project is a must to bring scalability to blockchains.
In addition, developers now have the option of launching pre-built blockchain networks, depending on their needs.
The origin of the project
Matic Network was created in 2017, by a team of 3  founders , including Jaynti Kanani, Sandeep Nailwal, two experienced blockchain developers, and Anurag Arjun, a business consultant.
Matic Network was renamed Polygon on February 9, 2021 with no impact on the project.
It should be noted all the same, that before having moved to its own network in 2019, the team formerly under the name of Matic, contributed enormously to the development of the Ethereum ecosystem. This brought among other things, the implementation of Plasma MVP, the WalletConnect protocol and the Dagger notification engine.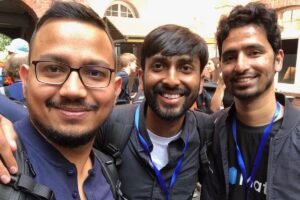 What is its use?
Polygon seeks to make its project attractive from a scalability point of view. As part of cryptocurrency, it is usually given the opportunity to significantly increase the number of transactions. As cryptos are used more and more, some blockchains find themselves congested.
Polygon is capable of processing more than 60,000 transactions per second, and this instantly.
The MATIC makes possible to ensure the security of this network, while acting as a "gas" in order to pay the very low transaction fees. It also offers governance perspectives in the ecosystem.
The tokens can be placed in staking, in order to generate comfortable interest, ranging from 15 to 25% per year.
If you want to stake your $MATIC, we recommend you to turn to the Just Mining platform. See our dedicated guide by clicking here.
Management of the economy (at 07/11/2021)
The maximum supply of $MATIC is limited, there will be no more than 10 billion units issued. Currently, 6.3 billion are in circulation.
According to Polygon's Whitepaper distribution model, all tokens will be present on the network in December 2022.
MATIC tokens are distributed according to the following distribution:
23.33% for the development of the ecosystem.
21.86% for the foundation reserve.
19% during the launchpad sale in April 2019.
16% are for the project team.
12% are dedicated to network operations.
4% are intended for advisors.
3.8% during the private sale in 2017.
Diagram of the evolution of the cryptoactive
Where to store your cryptocurrency
If you prefer to take your cryptocurrencies out of centralized exchanges, you can store your Polygons (MATIC) via various solutions:
Trust Wallet, bought by Binance, it has become the benchmark mobile wallet.
Ledger, very secure wallet hardwares, the best known being the Ledger Nano S.
Metamask, the decentralized wallet par excellence.
More details on the different types of cryptocurrency wallets on our dedicated page, accessible by clicking here.
Our opinion on this project
Fortunately, the Polygon project is there now, to take over and relieve a completely submerged Ethereum. He is now the unbeatable layer 2, which gives an extremely solid confidence to its community, which is growing ever more.
The Matic responds to concrete issues, which we will be confronted with more and more regularly, as the use of blockchains is democratized.
This project therefore has a clear future, as long as it continues to convince, and not to be defeated by stiff competition, while remaining attractive during the update of Ethereum 2.0.